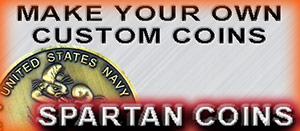 Challenge Coins AZ > Arizona Military Challenge Coins

Luke Air Force Base Coins > Fort Huachuca Coins
There are two things that come to mind when I think about the phrase military coins for sale. You are either searching to create your own custom military coins or you are looking to buy single, individual, pre-made military coins.
If you are looking to create your own custom military challenge coins then you're in the right place. We can do that. We will either need you to answer a few questions via email or you can simplify the process by completing our custom military coin quote form
Custom military challenge coins are plated in a wide variety of metal finishes (usually consisting of antique, matte and shiny variations of copper, bronze, silver and gold plating) and offer an even wider variety of options or special features, which include sequential or non-sequential numbering, edge text, special edges such as Diamond Cut edges, Rope edges and even Chain edges. Special paint such as Transparent paint or Heat Changing paint are also additional options in the custom coin universe.
You may feel overwhelmed by the many choices that are available to you. Rest assured, the only wrong answer is not creating your custom military coin with SPARTAN coins.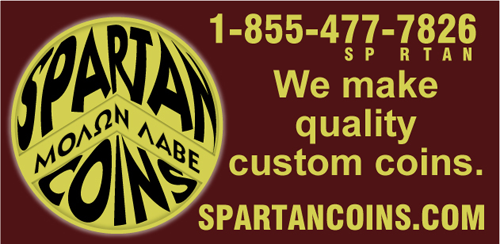 The satisfaction of a coin design is not predicated on how plain or extravagant the artwork is. What really matters is how the design makes you feel when you see it. Some designs can make good use of additional features while some are ordinarily perfect by being plain and straight to the point.
In my opinion, metal finish is the single most important factor when designing a military challenge coin. I know there are a lot of metal finishes available but you would be wise in choosing a metal finish that contributes to the overall success of your design. What do I mean by that? Well if your design has a lot of silver or white then perhaps you should opt for a silver metal finish such as an antique silver or pewter looking metal finish. If your design consists of a lot of yellow or gold then maybe a gold metal finish would work best for your design. Consider being adventurous and using two tone plating - as seen below.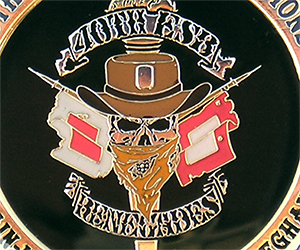 Don't think of the paint colors on your coin as the only color you get. You also get the opportunity to use raised and recessed metal colors in your design and they should be used to your benefit. Remember, enamel paint colors are not the end all be all and every feature you add to your custom military coin order will increase production time.
Choosing a metal finish that is in stark contrast to your design does not work to your benefit and can actually detract from your design. Any quality challenge coin maker should provide good input that will make your design the best it can possibly be. Don't be afraid to ask questions or take suggestions. It's very likely that the designer working on your coin has a lot more experience designing coins than you do. Use their expertise to your benefit.